ABOUT UPTOWN / WEST OAKLAND
Uptown and West Oakland are strategically located between 2 of the 3 largest "city centers" in Pennsylvania - Downtown and Oakland. New investments in housing and start-up businesses are happening both within and around Uptown. For these reasons, Uptown and West Oakland present unparalleled opportunities to encourage new investment that supports new and growing businesses but also creates opportunities for existing residents.
WHY DO WE NEED A PLAN?
Residents in Uptown and West Oakland have a lot of ideas for the future of their community. Organizing, prioritizing, and implementing these ideas requires a clear plan of action. This EcoInnovation District planning process sought to answer several key questions: What are the main critical problems the community faces, and what are the ways that we can solve them? What is most important to the community? What can we achieve now and what should we do long-term? These questions and more are the reason we partnered closely with community members to craft this plan.
Specifically, this plan will:
COORDINATE and inform budgeting decisions by the City, local institutions and private organizations that are interested in investing in the community;
LEVERAGE public, private, and philanthropic dollars by clearly signaling where improvements will be made in the community;
IDENTIFY additional opportunities to raise funds for implementation from outside the City; and
EMPOWER residents and stakeholders as partners in the implementation of this plan. Uptown followed Pittsburgh's rise and fall through the years with both an industrial legacy and significant decline. Today, there is a significant amount of community activism and growing interest in the neighborhood but also concerns about what that change may bring. Those that live, work and study in the community provided extensive input and insight into this process.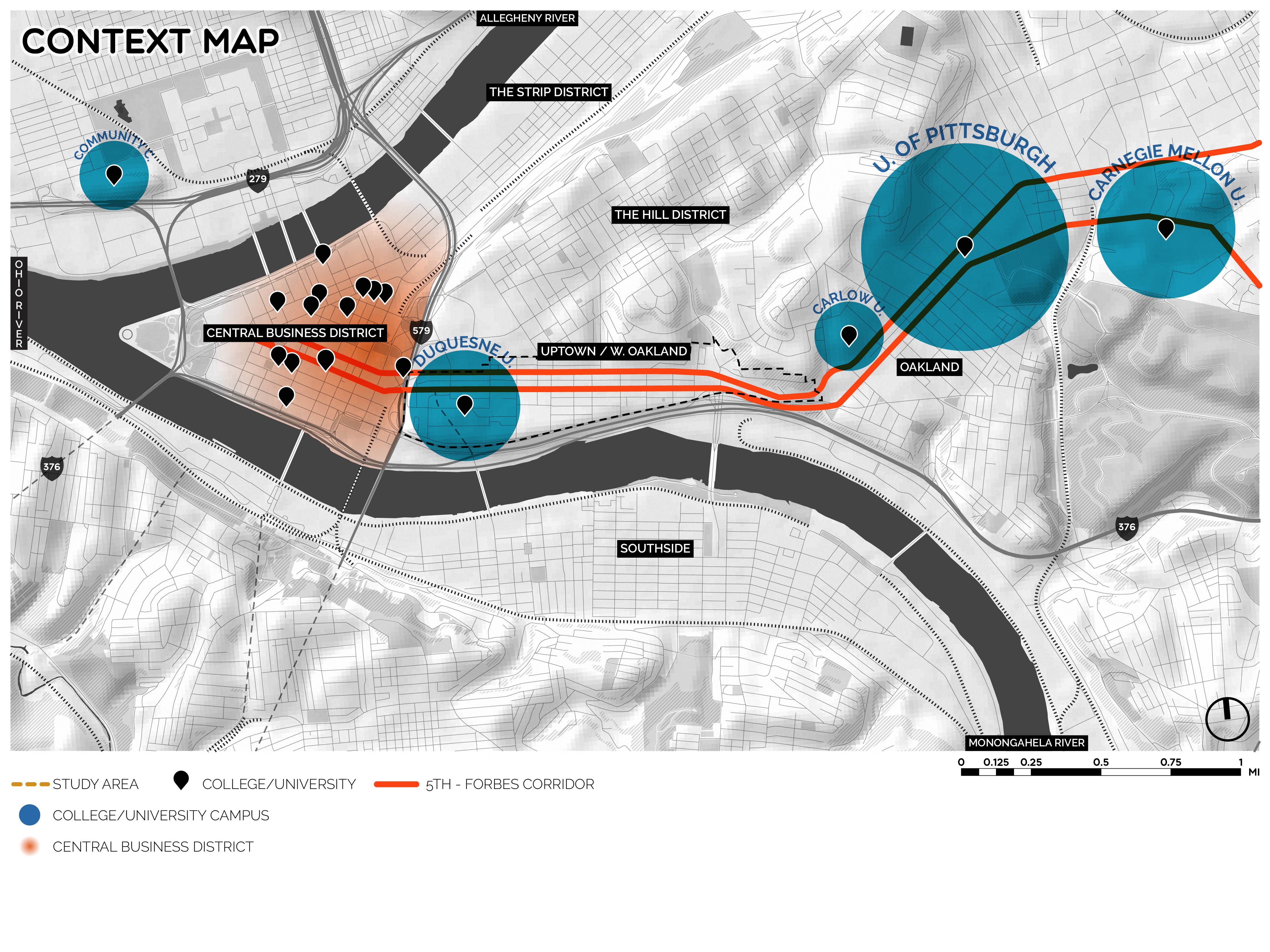 Consider the following:
An investment in Uptown, and the Fifth/Forbes Corridor that runs through it, is an example of our mutual commitment to communities that have not shared in Pittsburgh's growth and recovery up until this point.
Uptown presents the ability to build from the market strengths of Downtown and Oakland while supporting grassroots efforts being led by residents, entrepreneurs, and local institutions throughout the neighborhood.
Ongoing discussion of transit investments is likely to drive positive development and is bringing attention to the neighborhood.
Developing an environmentally innovative, equitable plan is a timely approach that addresses neighborhood challenges and builds on existing momentum across the city.
Collaboration and trust between all corridor stakeholders--community residents, institutions, businesses, and government--is critical for setting a framework for investment for sustainable growth in the corridor.
The processes and goals of the EcoInnovation District should serve as a model for deployment into other areas in the City of Pittsburgh.