VISION & GOALS
Uptown/West Oakland will reinforce Pittsburgh as a hub of innovation and serve as a model for equitable growth, economic opportunity and sustainability. As Pittsburgh's healthiest community, Uptown/West Oakland will test new tools and innovative techniques to improve the quality of the community's air, water and land for the benefit of its residents, businesses, employees and the Hill District at large. Anchor institutions, working in partnership with residents, will continue to develop programs that serve to link local and regional resources and knowledge with community needs. We will be intentional in fostering an inclusive and diverse community while encouraging new housing that will support new stores, new businesses and new jobs for residents. Strategic investments in our infrastructure will improve and expand the community's green space, create safe streets and, provide transportation choices for all.
The design and implementation of the EcoInnovation District will be dynamic and interactive, monitoring the performance of each action and inviting community members to participate every step along the way. The models for healthy living that are created here will serve the local community and provide other neighborhoods and communities throughout the City with viable tools and projects for transformation there as well.
The EcoInnovation District Plan reinforces Pittsburgh's p4 Initiative and is built around the following goals:
PEOPLE
Foster a vibrant, diverse community where the residents of Uptown/West Oakland are an active and vital part of the community's future, benefit directly from improvements and don't solely bear the burden of systems that largely serve other communities.
Encourage new businesses and creative production, advance training opportunities and, create a clear pathway for residents to access job opportunities.
PLANET
Elevate individual, community and environmental health in the planning, design and development of Uptown/West Oakland.
Reduce traffic and offer real transportation choices that are cost effective, pleasant and safe for residents and businesses including walking and bicycling.
PLACE
Reinforce Uptown's unique character by protecting and reusing existing buildings whenever possible, and expanding local arts and community events.
Create stronger connections to the Hill, Oakland, Downtown, the Monongahela River, nearby parks and forested slopes, and beyond.
PERFORMANCE
Pursue solutions for water, building systems and district energy that will enable Uptown/West Oakland to reach the highest levels of environmental performance and efficiency.
Create partnerships and a model for sustainable local leadership that can continue to engage residents and effectively take action in the community.
COMMUNITY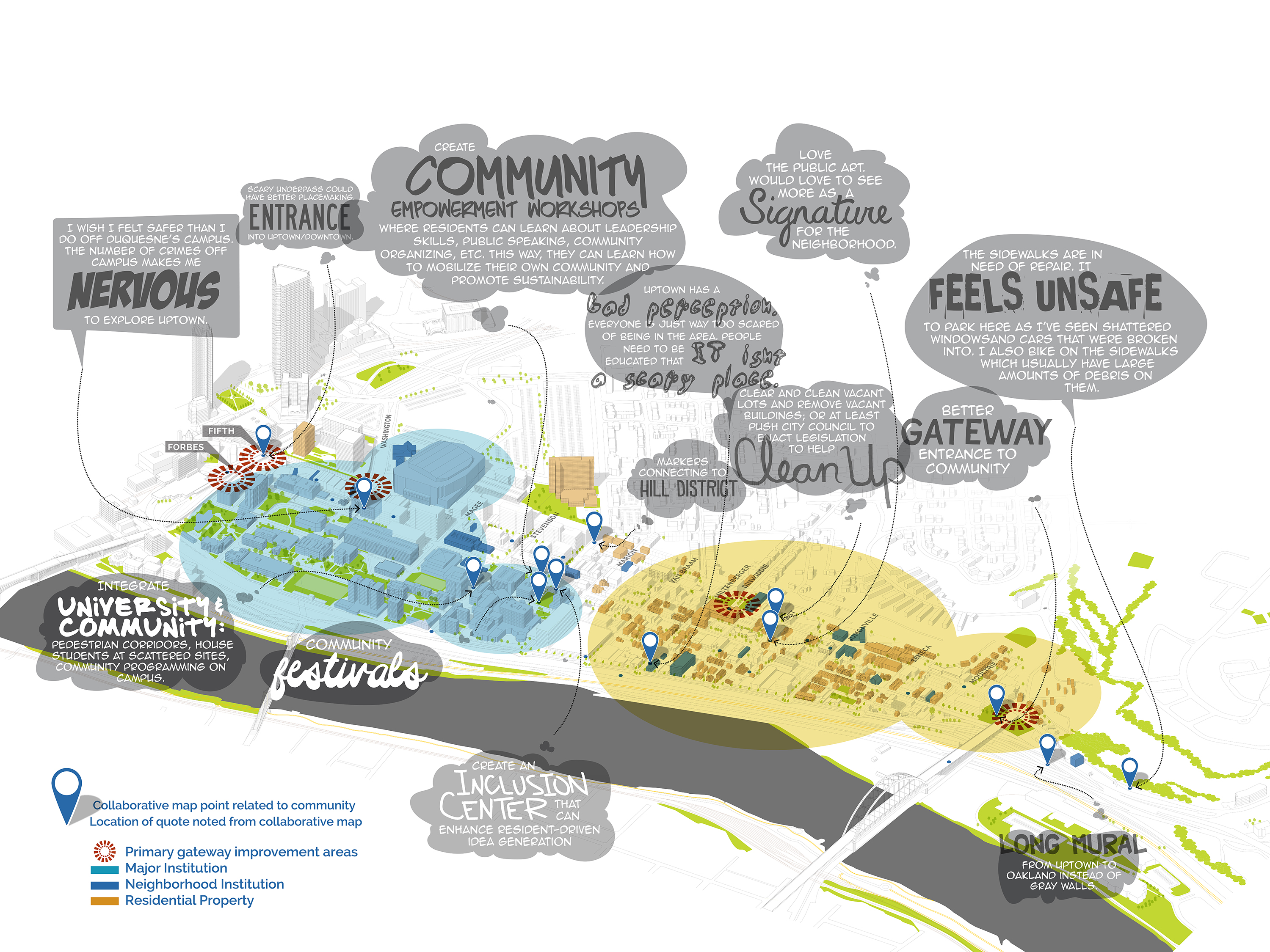 There are about 1,000 residents in Uptown that face many day-to-day challenges. Concerns about rising housing prices, crime (both real and perceived) and the continued loss of historic buildings are frequently raised. Ensuring that Uptown grows equitably, that job opportunities are accessible to residents and that the community both tackle some long-standing day-today challenges while keeping Uptown…Uptown, represents the core of the EcoInnovation District plan.
1.1 INVEST IN EXISTING RESIDENTS & PROTECT THE RESIDENTIAL CORE OF THE COMMUNITY
Displacement is a real fear that requires a number of strategies to assist residents that are vulnerable to rising rents. At the same time, doing nothing to address the community's challenges is not an option. We must look at not just the fear of tax increases but also the cost of maintenance and utilities that all factor into a family's budget.
CREATE A HOUSING ADVOCATE FOR UPTOWN to connect residents with programs and to monitor local housing conditions
EXPLORE TAX POLICIES TO PREVENT DISPLACEMENT and build upon the Mayor's Executive Order to create a LOOP program in Pittsburgh to protect homeowners from tax increases
WORK WITH THE URA AND CITY TO COORDINATE ACQUISITION OF KEY TAX DELINQUENT PROPERTIES and reuse these properties consistent with the goals of this plan
EXPLORE THE POTENTIAL OF A LAND TRUST TO MAINTAIN AFFORDABILITY FOR BOTH RESIDENTIAL AND COMMERCIAL PROPERTIES
EXPAND EFFICIENCY RETROFITS and BASIC SYSTEMS REPAIR FOR EXISTING BUILDINGS to reduce the costs of maintenance and utilities to residents
EXPLORE THE POSSIBILITY OF A HEALTHY HOMES PROGRAM FOR UPTOWN AND THE HILL DISTRICT to improve housing with the goal of improving health
1.2 PROMOTE DIVERSITY AND INCLUSION IN THE INNOVATION COMMUNITY
The city's Roadmap for Inclusive Innovation includes a substantial commitment to the development of the Clean Tech sector in Pittsburgh (initiatives like recycling, renewable energy, electric motors, information technology and alternative transportation to name a few). Pittsburgh's overall Clean Tech sector has 17-21,000 jobs with compensation rates that are 4.8% higher than the average wage. 47% of these jobs do not require more than a high school degree.

The EcoInnovation District Plan incorporates a number of new solutions to be tested in the community to address specific opportunities like reducing energy costs or local flooding. Using Clean Tech solutions as part of the redevelopment process creates the opportunity for a wide range of job requirements many of which are accessible with additional training. By aligning training opportunities with the specific improvements proposed for Uptown, residents become an active and employed part of Uptown's future because they are helping to build it.
BECOME A HUB OF WORKFORCE DEVELOPMENT PROGRAMS accessible to and targeting a range of skill sets and educational backgrounds
INVITE DISADVANTAGED YOUTH TO PARTICIPATE IN THE INNOVATION COMMUNITY by linking existing programs to EcoInnovation District improvements
CREATE AN ANNUAL UPTOWN JOB FAIR WITH LOCAL BUSINESSES to help promote job opportunities in the community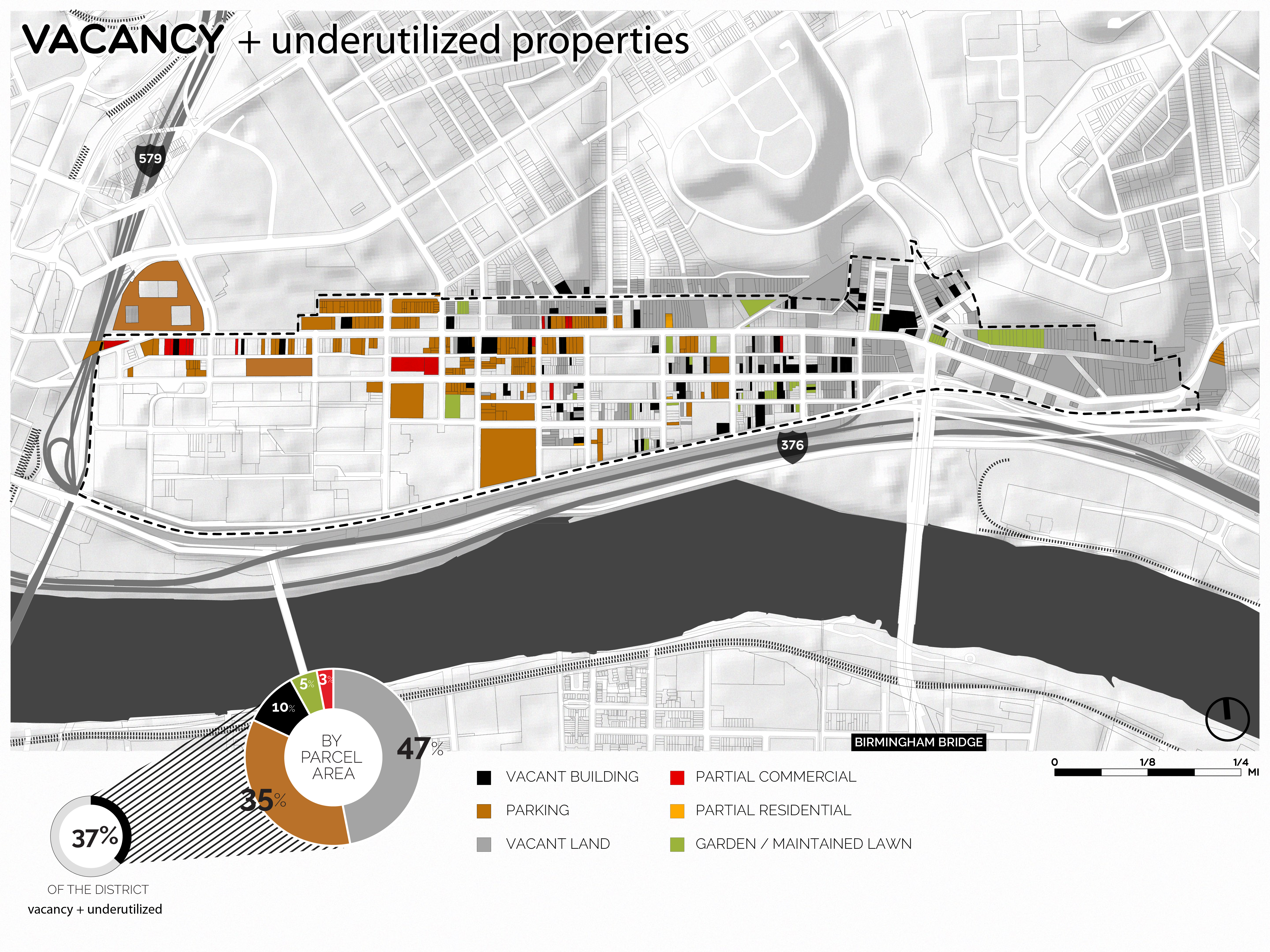 1.3 BUILD ON UPTOWN/WEST OAKLAND'S CHARACTER AND IDENTITY
Uptown represents one of the more diverse and unique locations in Pittsburgh. No location is closer to job centers in Downtown, Oakland and the growing Almono District but at the same time historically overlooked as a place to pass through. It's a place of diverse races, incomes and building types. Old and new residents value these aspects of the community and have called for more opportunities to celebrate what is authentic about the community.
PRESERVE THE COMMUNITY'S HISTORIC CHARACTER by ensuring zoning protects existing buildings
INVEST IN MORE PUBLIC ART
LAUNCH A TARGETED MARKETING STRATEGY to promote Uptown as a neighborhood for families
CREATE NEW COMMUNITY PROGRAMMING
EXPAND LOCAL FITNESS PROGRAMS and connect them to proposed trails in the community
1.4 WORK TOGETHER TO TACKLE VACANCY AND COMMUNITY SAFETY
37% of Uptown is vacant and underutilized. These visible gaps in the fabric of what were once homes and businesses reinforce the negative perceptions about the community and encourage the kinds of activities like illegal dumping and rug dealing that are serious day-to-day issues for residents. When asked about the biggest concerns about the community, safety was the top choice even by residents many of whom are familiar with the kinds of activities that occur in the area and that conditions have improved.
MONITOR & ADDRESS ILLEGAL DUMPING AND NUISANCE PROPERTIES
UPGRADE LIGHTING
EXPAND COMMUNITY POLICING
1.5 EXPAND INSTITUTIONAL PARTNERSHIPS
Institutions play a prominent role in Uptown as a source of employment, as anchor real estate holders and contributors to the wellbeing of the community. Institutions (including UPMC Mercy and Duquesne University) represent 65 acres or 37% of the total land area of Uptown. There are over 20 institutions providing a range of services to community members in Uptown. Continuing to support their work and their clients whether they are students, deaf or homeless, should remain central to Uptown's future.
CONNECT LOCAL INSTITUTIONS both big and small to one another to address shared needs in the community
WORK WITH MAJOR INSTITUTIONS TO EXPAND THEIR RESEARCH, CURRICULUM AND STUDENT ACTIVITIES INTO THE COMMUNITY WHERE APPROPRIATE
DEVELOPMENT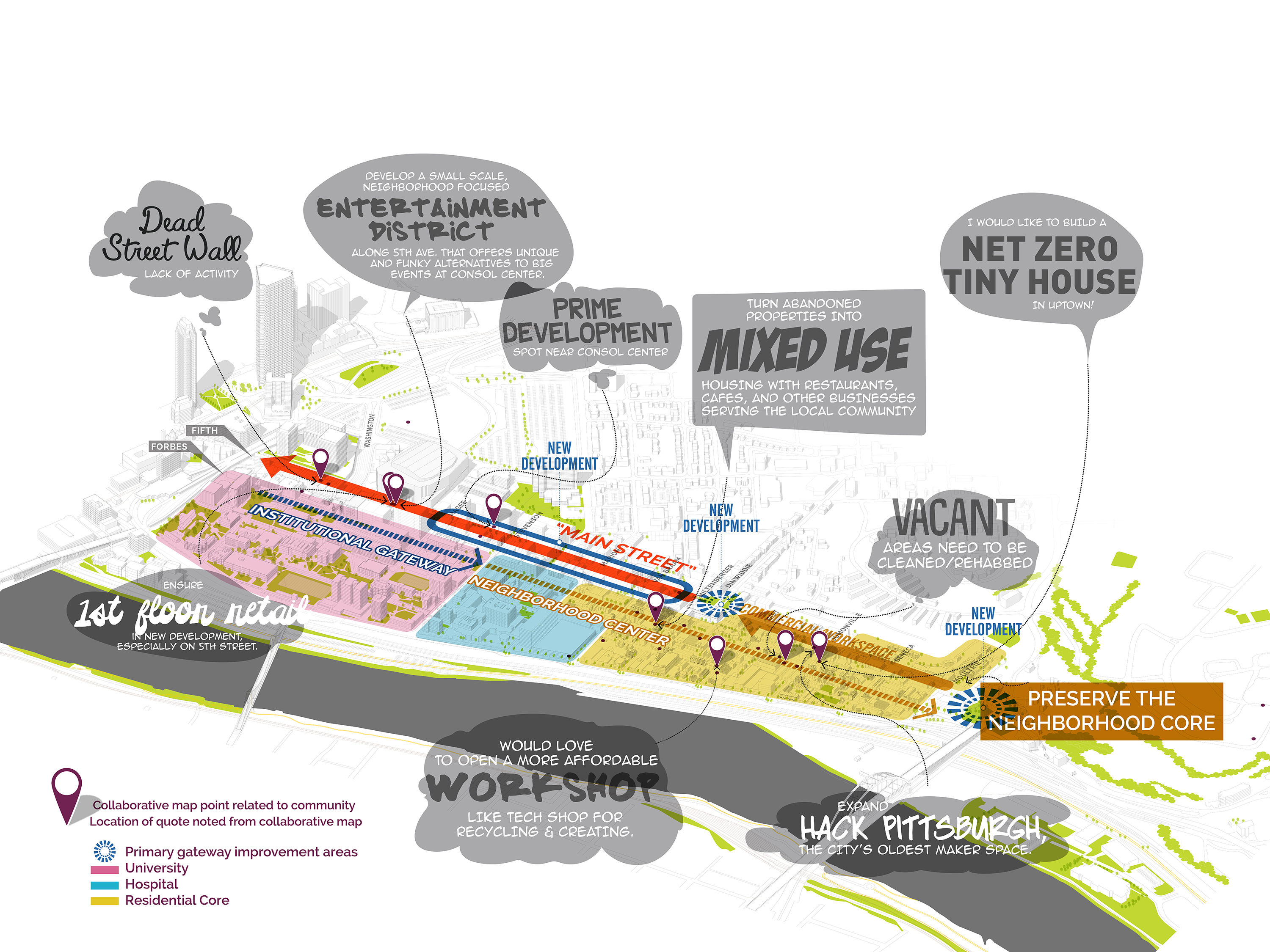 Given Uptown's unique location, it's remarkable that investment has, in many ways, bypassed the community. 37% of the land in Uptown is underutilized - consisting of surface parking lots or vacant buildings/land. Uptown is poised to encourage and guide development, helping to re-establish the vibrant mix of uses that once characterized the Fifth and Forbes corridors. To encourage investment but also retain Uptown's character, the existing zoning needs to be replaced. Using the City's p4 initiative as inspiration, the proposed Uptown Public Realm District seeks to simplify the existing code but also incentivize new development in ways that help to address some major issues in the community including affordability, stormwater, energy and preservation.
2.1 DIVERSIFY HOUSING OPTIONS
While the residential population in Uptown is extremely diverse, the housing stock available is much less so. To simply build out the neighborhood with the existing rowhouse typology would be a missed opportunity for Uptown. Due to its proximity to major job centers and along the Fifth / Forbes corridors, Uptown can handle a lot more density if it is encouraged in ways that do not threaten the remaining residential fabric. More density offers the opportunity to bring new residents who can support more neighborhood commercial activity and existing businesses. At the same time, less dense new single family housing represents the best opportunity to increase homeownership in the neighborhood – a stated goal of many existing homeowners.
MAKE HOUSING OPTIONS AVAILABLE AND AFFORDABLE TO A DIVERSE INCOME RANGE by incentivizing the inclusion of housing at affordable price points within new market-rate development.
LOOK FOR OPPORTUNITIES TO CREATE NEW SENIOR HOUSING
CREATE HOUSING DESIGNED SPECIFICALLY FOR STUDENTS to relieve pressure on existing housing
2.2 CREATE SPACE FOR INNOVATION
Already home to StartUptown (now merged with Revv Oakland), Uptown is in a perfect location for small, start-up businesses. But to realize this goal, these businesses need space at prices they can afford. Uptown needs to protect the existing empty warehouse space that can serve these businesses and work to create ground floor commercial spaces for a range of small businesses.
CONNECT START UPS WITH FLEXIBLE SPACES TO FIT THEIR NEEDS by connecting small businesses with local property owners
WORK WITH DEVELOPERS TO PROVIDE WORKSPACE by encouraging the ground floor of new development along Fifth to be used by small businesses
SUPPORT HOUSING TYPOLOGIES THAT ALLOW FOR COLLABORATIVE CREATIVE
PRODUCTION AND INNOVATION by allowing live-work arrangements in future zoning
2.3 REVIVE COMMERCIAL CORRIDORS
Fifth and Forbes Avenues once served as busy "main streets." With the decline in local population, these corridors are now vastly different. Too much pass-through traffic, too many parking lots, too many vacant lots and a perception the community is unsafe are all factors that discourage new retail in Uptown. However, Uptown is home to PPG Paints Arena and their thousands of visitors, as well as almost 8,000 employees. These populations are looking for more places to eat or have a drink but ultimately, the population needs to grow to support additional stores that provide a wider range of services. Focus these stores along Fifth and work to protect existing retailers in the community.
OVERSEE CORRIDOR MANAGEMENT EFFORTS AS A PART OF EID DISTRICT MANAGEMENT by improving the look and feel of Fifth to support existing and potential new businesses
RETAIN EXISTING BUSINESSES by assisting them with marketing and connecting them with small business assistance programs
ENCOURAGE EXISTING AND NEW BUSINESSES TO IMPROVE CURB APPEAL by offering assistance to businesses to upgrade signage, lighting and other street-side amenities
ATTRACT NEW RETAIL & COMMERCIAL TENANTS by working to subsidize tenant fit-out, recruit tenants and developing partnerships with institutions to create new office and research space.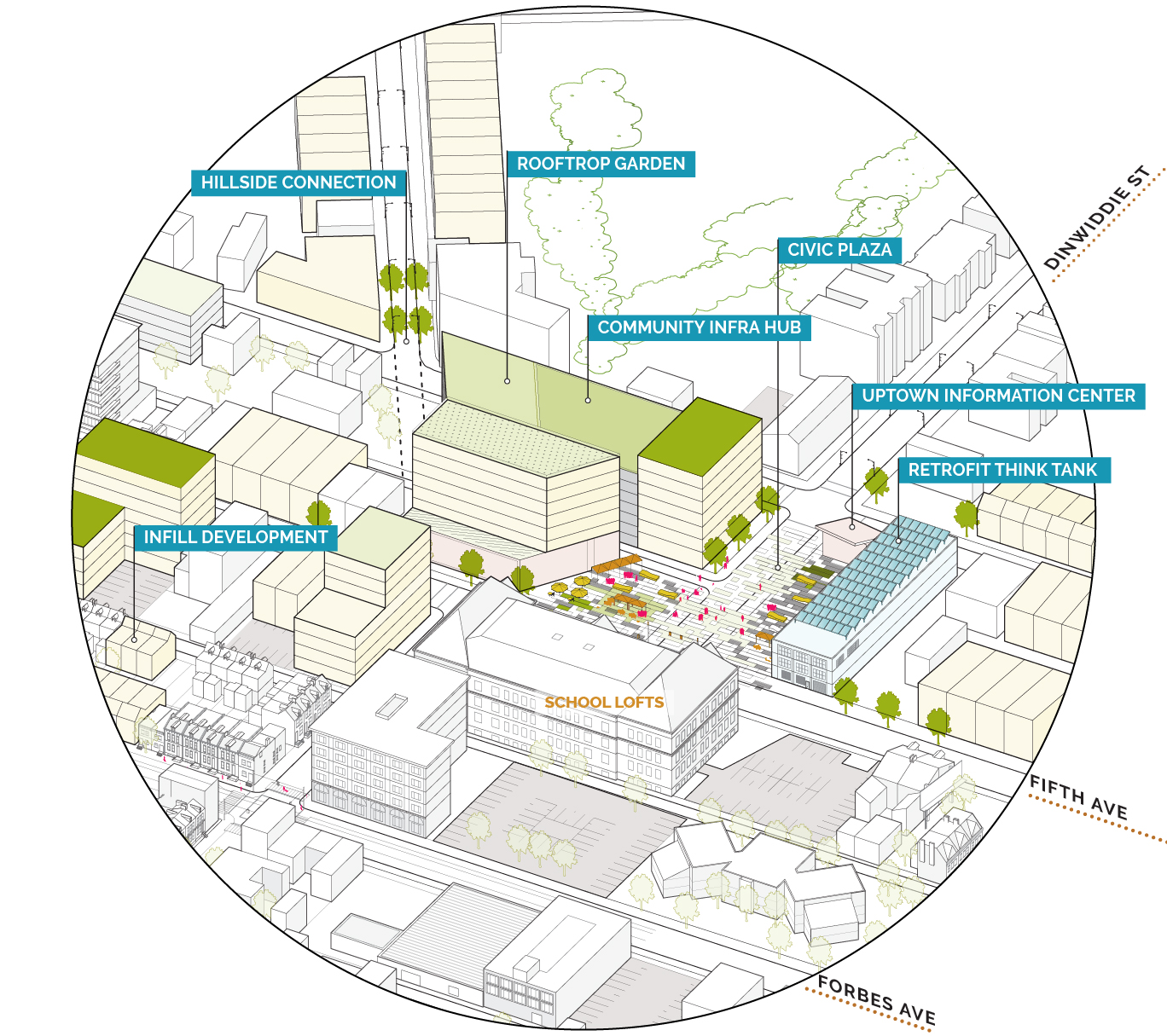 2.4 IMPLEMENT POLICIES TO PROMOTE SUSTAINABLE & AFFORDABLE DEVELOPMENT
The current zoning rules neither serve the needs of developers nor the community. Variances are required and, even though most residents in the community walk, bike or take transit for most trips, parking requirements often force developers to allocate almost the entire 1st floor toward parking instead of active commercial uses that residents are craving. This relatively inactive space on the street only furthers the perception that the streets are not active and unsafe. Zoning should work for the community by encouraging development that the community and developers are seeking.
ENCOURAGE DENSITY AND MIXED USES IN TARGETED AREAS by encouraging more density closer to the Arena while protecting the existing residential core of Uptown.
MANAGE PARKING DISTRICT WIDE & CREATE COMMUNITY INFRASTRUCTURE HUBS to efficiently serve the parking needs of the community.
REWRITE ZONING FOR THE EID BASED ON PERFORMANCE by using the City's p4 initiative as inspiration to help incentivize affordable housing and green construction while protecting existing buildings.
MOBILITY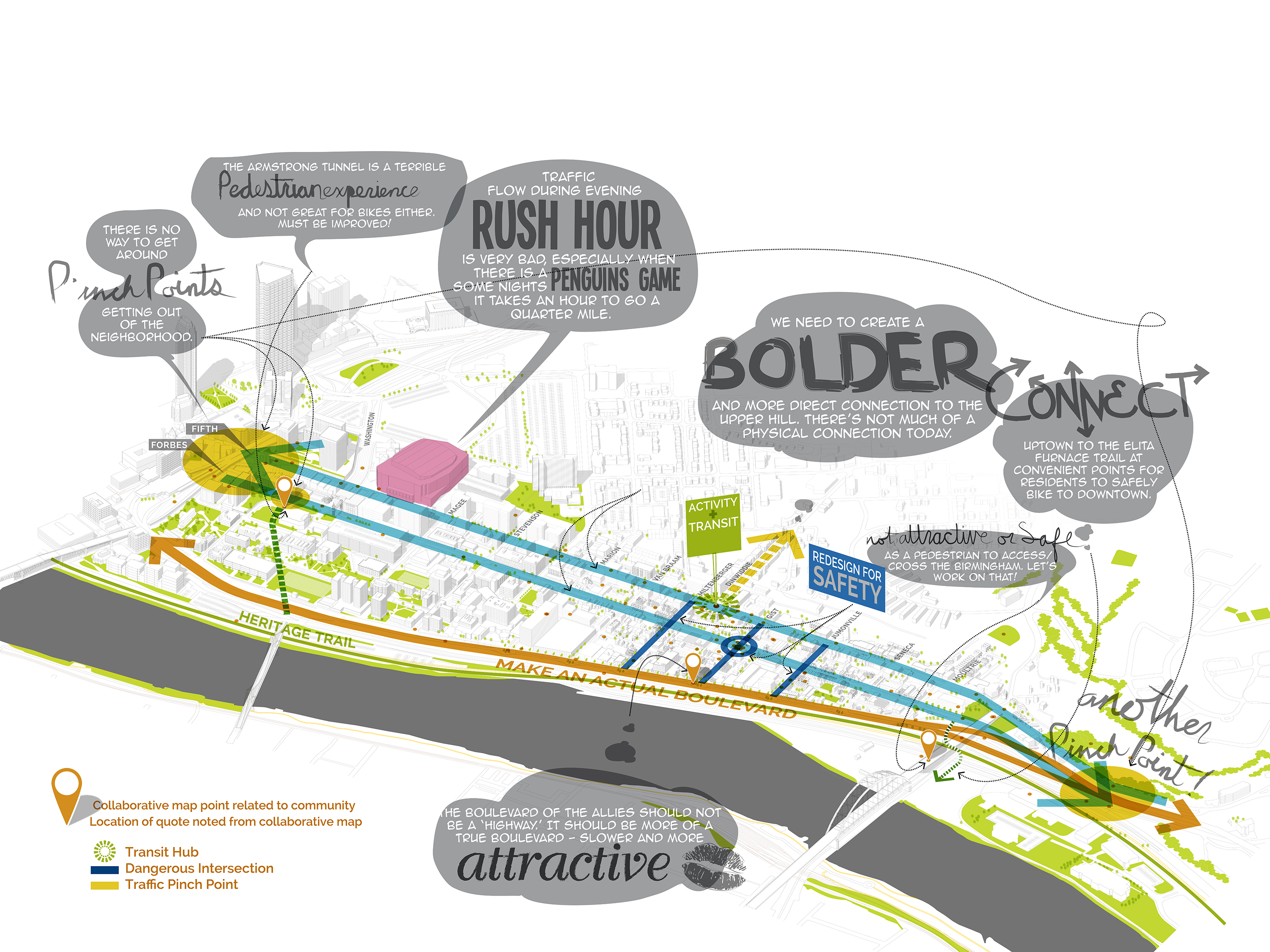 Uptown and West Oakland's transportation system is one of the community's biggest assets, with some of Pittsburgh's most robust transit, bridge, and highway connections. On the other hand, this same infrastructure – and its associated traffic – often serve to overwhelm the neighborhood, encouraging trips through Uptown and West Oakland rather than to them. This generates a significant amount of vehicular traffic, traffic crashes, and air and noise pollution.
After housing, transportation is typically the second highest factor in a household's cost of living, and residents of Uptown have many opportunities to reduce these costs. Operating, insuring, and maintaining a car costs an average of $9,000 per year. Because of its walkable scale (if not walkable streets) and frequent buses along Fifth and Forbes Avenues, it's possible to live without a car in Uptown – and some people do. But walking, bicycling and taking transit is not always easy in Uptown. Some steep hills, poor sidewalks and fast moving traffic makes walking unpleasant and at time unsafe. There are no bike lanes that protect bicyclers from traffic and, although buses run frequently along Fifth and Forbes they too often get stuck in traffic. And, because the community caters too much to the car, what were once active shops and homes are, too often, now parking lots. The EcoInnovation District is focused on creating safe, livable streets for everyone, better managing parking and, offering real transportation choices for those that are seeking to bike, take transit or walk as well as drive.
3.1 INCREASE TRANSPORTATION CHOICE TO DECREASE CONGESTION
The City of Pittsburgh aims to reduce transportation-related greenhouse gas emissions by 50% by 2030 . This ambitious goal requires the widespread implementation of projects and programs that improve the availability, convenience, and cost of efficient modes of transportation such as transit, walking, biking, and ridesharing, reduce vehicle ownership, and dis-incentivize the single-occupancy vehicle trips that cause the bulk of congestion, greenhouse gas emissions, and other air pollution on city streets.
The continued development of Uptown and Pittsburgh as a whole means that there will be only more people in, and passing through, the neighborhood. However, more people traveling on Uptown streets does not have to mean more congestion. Increasing the number of people in each vehicle will mean more efficient roadways and a potentially more pleasant experience for people walking and biking. Every person that chooses to ride a bus, walk or bike is one less car on the road and one less filled parking space.
ENCOURAGE WALKING, BIKING, AND TAKING TRANSIT FOR TRIPS TO, FROM AND WITHIN THE ECOINNOVATION DISTRICT by making bike share available and offering reduced transit fares to employees
ENSURE TRANSIT MEETS THE NEEDS OF LOCAL USERS by rerouting existing buses to better connect the Hill District and Uptown
GET MORE PEOPLE RIDING TOGETHER by working with local employers to encourage carpooling, ridesharing and ridesourcing
EXPAND A TRANSPORTATION MANAGEMENT ASSOCIATION (TMA) TO INCLUDE UPTOWN by working with Oakland and Downtown in their current efforts to manage transportation
EXPAND MOBILITY ACROSS ALL INCOME LEVELS by evaluating income-based subsidies for bike share and transit
3.2 CREATE A SAFE AND LIVABLE STREET NETWORK
Although it is a major connector in the larger transit and vehicle network, Uptown is a neighborhood, first and foremost. Data shows that there has been a notable increase in crashes resulting in severe injuries in the Uptown neighborhood since 2010. It's no surprise than many of these crashes occurred along Fifth and Forbes Avenues and along Boulevard of the Allies, as the larger streets in the network crossing Uptown - but a significant number of crashes occur along many other neighborhood streets as well. The impact on the community's health and the safety concerns that come with high-speed traffic so close to a neighborhood and slow-moving neighborhood streets demands attention. No amount of crashes is acceptable on neighborhood streets. Design and policy recommendations are meant to guide street improvements to prioritize the safety of people walking, biking, and those accessing transit, first.
ACHIEVE ZERO TRAFFIC FATALITIES AND ZERO SERIOUS INJURIES WITHIN UPTOWN by improving crosswalks, signals and dangerous intersections
IDENTIFY "SLOW STREETS" COORDINATED WITH TRANSIT EMPHASIS ON Fifth/FORBES by integrating signs and curb extensions to help slow traffic approaching Fifth and Forbes
IMPROVE SAFETY OF CROSS STREET CONNECTIONS WITH BOULEVARD OF THE ALLIES for all modes by redesigning the cross street intersections to signal that cars are now entering a neighborhood
PRIORITIZE SIDEWALK IMPROVEMENTS BASED ON NEED AND CRITICAL PATHWAYS
IMPROVE THE SAFETY AND QUALITY OF THE PEDESTRIAN EXPERIENCE CROSSING UNDER BRIDGE AND OVERPASS INFRASTRUCTURE by improving the Armstrong Tunnel, Forbes at Second Avenue, and Fifth near the Birmingham Bridge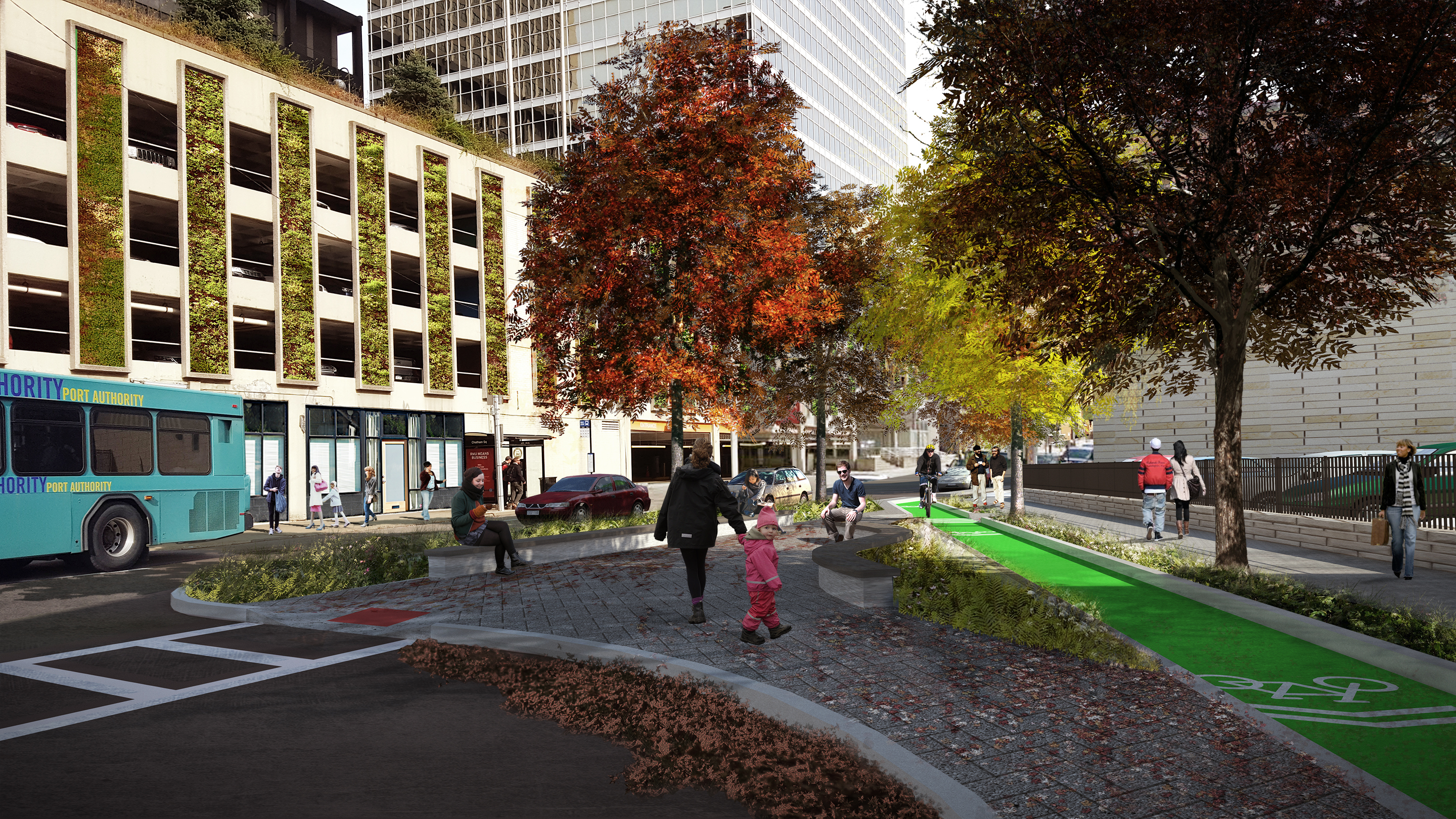 3.3 IMPLEMENT BUS RAPID TRANSIT ON FIFTH AND FORBES AVENUES
Fifth and Forbes Avenues are critical corridors that carry 10-14,000 vehicles on average per day in each direction, with the highest traffic counts near the "pinch points." Today, Fifth and Forbes carry 11 different bus routes through Uptown from downtown to and from Oakland and beyond. Given Uptown's unique location and traffic challenges, an idea was launched in 2011 to create a bus rapid transit system between Downtown, Oakland, and neighborhoods to the east along Fifth and Forbes.
Bus rapid transit (BRT) is more than a way to reduce congestion, it is a mechanism for extensive street reconstruction which would not be feasible in Uptown without a project of this scale. Uptown's street and intersections today are largely in a state of disrepair. Most sidewalks along the corridor are obstructed by public utilities and in poor condition, there are few suitable crosswalks, almost no crossing signals and the bus stops are generally in poor condition. The need for sidewalk repair and intersection safety upgrades is immediate. A piecemeal approach to improvements would take too long to see any real meaningful improvements.
PROVIDE A TRANSIT ONLY LANE ON BOTH FIFTH & FORBES AND INTEGRATE PEDESTRIAN IMPROVEMENTS INTO BRT DESIGN
USE BRT CONSTRUCTION TO BEGIN THE SHIFT AWAY FROM SINGLE OCCUPANCY VEHICLES by providing construction and re-routing updates
3.4 BUILD A SMARTER UPTOWN
Smart cities require smart transportation. Advanced Intelligent Transportation Systems (ITS) provide ever-smarter transportation infrastructure by collecting and analyzing more data – and more useful data – using it to optimize the system, and sharing it with customers so they can make better-informed decisions. The greater use of sensors and demand-response technology in traffic operations will increase the efficiency of local streets. Innovative mobility solutions such as autonomous vehicles (AVs), shared mobility (such as a bike or car-sharing programs), and microtransit can fill gaps in the transportation network with more flexibility than traditional transit service.
ENCOURAGE IMPLEMENTATION OF SMARTPGH* SENSOR NETWORK IN UPTOWN; SMART SPINES* ON FIFTH/FORBES
MAKE REAL-TIME TRANSPORTATION DATA AVAILABLE TO THE PUBLIC so residents always know when the next bus is coming
ENCOURAGE AUTOMATED VEHICLE (AV) PILOT PROJECTS IN UPTOWN including shuttles for institutions and major events
BRING ELECTRIC VEHICLE (EV) CHARGING STATIONS TO UPTOWN by integrating them into parking lots and garages
3.5 ESTABLISH A DISTRICT PARKING STRATEGY
The overabundance of surface parking drains the vitality from Uptown, suppresses property values and development, and reduces the "eyes on the street" that support a safe environment. Moreover, they mainly serve commuters heading Downtown or to an event at the arena. In other words, those passing through Uptown / West Oakland benefit from the abundant and generally low-cost parking, while those who live there (and many of those who work and study there) bear the negative effects.
Throughout the planning process, we heard that residents are often frustrated by on-street parking space being monopolized by commuters overstaying 1- or 2-hour parking restrictions on neighborhood streets. A basic goal of parking regulation changes in Uptown and West Oakland, then, is to shift the use of on-street spaces now primarily used by commuters as remote parking for Downtown and Oakland to be more readily available for resident parking or in support of local businesses and destinations that lack dedicated parking. In commercial areas, on-street parking should serve the adjacent retail businesses, both for customers and deliveries, rather than long-term parking, and should be priced to ensure adequate turnover so that drivers need not wastefully circle looking for a parking spot.
MAKE PARKING POLICY "WORK" FOR UPTOWN RESIDENTS by increasing enforcement, tracking parking utilization and extending residential permit parking areas
IMPLEMENT DYNAMIC PARKING MANAGEMENT STRATEGY* FOR UPTOWN / WEST OAKLAND by pricing parking for outsiders differently at different times when the demand is high
PARTNER WITH INSTITUTIONS + MAJOR EMPLOYERS TO DEVELOP TRANSPROTATION DEMAND MANAGEMENT (TDM) PROGRAMS to incentivize students and employees to carpool, take transit or bike to work
ESTABLISH A MAJOR-EVENT MANAGEMENT STRATEGY IN PARTNERSHIP WITH THE PPG PAINTS ARENA to help reduce traffic and parking in the community
3.6 INVEST IN BICYCLE INFRASTRUCTURE & CULTURE
As the Uptown and West Oakland communities grow, it is imperative that local streets include safe bicycle infrastructure that enables all residents - young, old and in between – to ride their bike. Bicycling is a reliable, fast, affordable, and healthy form of transportation. Developing this infrastructure will improve the quality of life for all residents.
INFILL EXISTING BIKE NETWORK WITH SAFE, ALL-AGES FACILITIES by making space for bikes on Fifth and Forbes and creating connections to existing and planned bike lanes in adjacent areas
MAKE THE BIKE COMMUNITY MORE VISIBLE by creating a local bicycle / pedestrian committee to lead the development of bike-related programs and installation of bike racks
EXPAND BIKE SHARE IN UPTOWN AND WEST OAKLAND
GROW REGIONAL BIKE TRAIL NETWORK AND CONNECTIONS FROM UPTOWN by ensuring bike connections to the Heritage Trail and through the hillside
INFRASTRUCTURE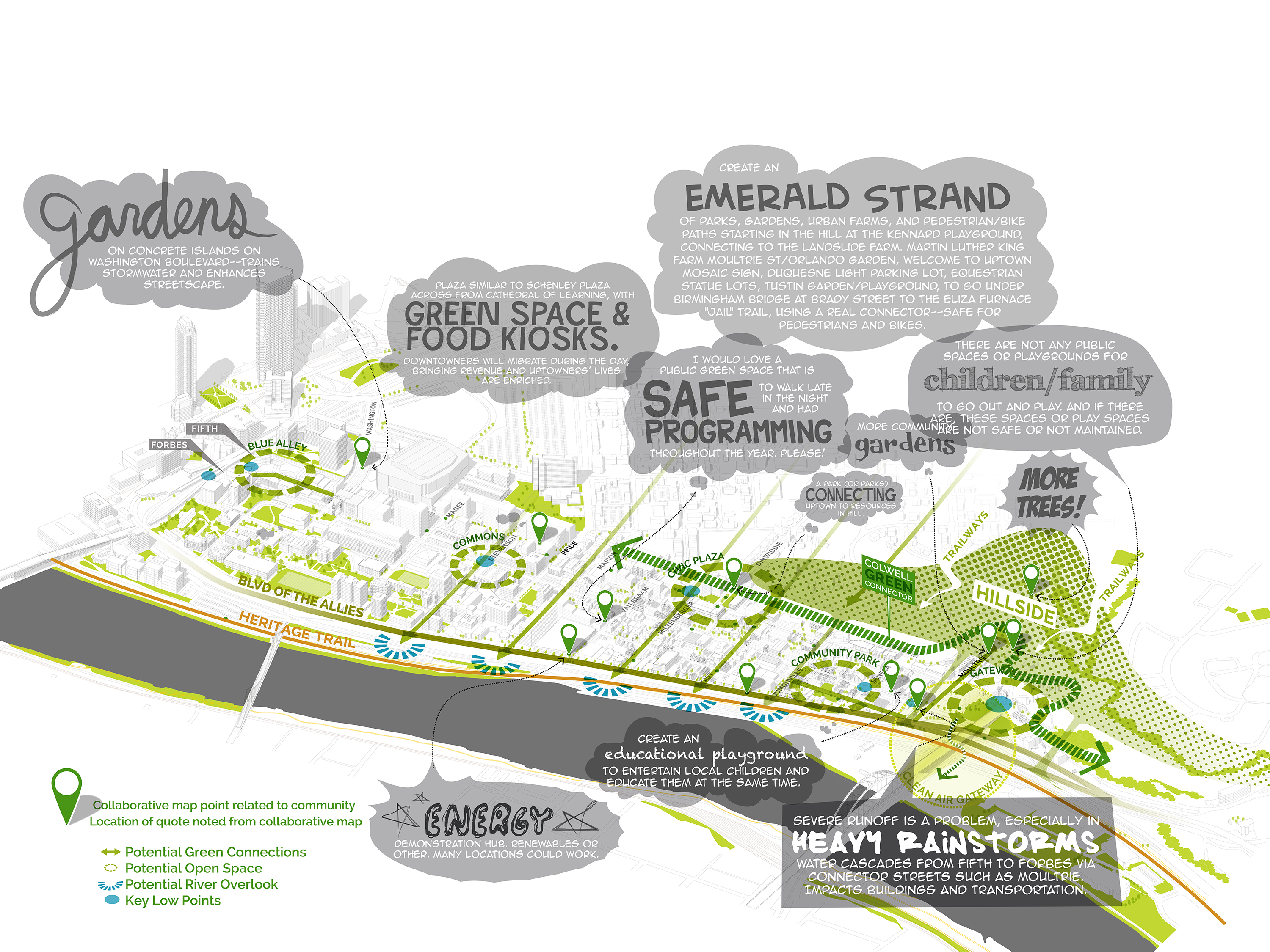 Uptown is blessed with some potentially amazing natural assets: an incredible wooded hillside to the northeast that could serve in both an open space and ecological capacity; and a stunning 180-degree view down to the Monongahela River — if one could safely connect to the hillside bluff overlooking the river. It also boasts an emerging urban agriculture movement, experiments in public art and landscape throughout the neighborhood, small but socially important gathering spaces like the Tustin Street Playground and community garden, and an incredibly energetic set of residents at work in these spaces and efforts.
Unfortunately, many of these assets are yet untapped or mostly unrealized. They lack physical and visual access to them, connections between and among them, and have limited resources to support major upgrades or expansion except for the time and efforts and personal contributions of those active in their founding, installation, and upkeep. The opportunity is to improve these open spaces, connect them, create new ones that help to manage the stormwater that negatively impacts the community.
The EcoInnovation District also carefully studied the opportunity to reduce waste and reuse more and, creating district energy for all in the community. These activities can provide more resilient infrastructure for residents but also reduce costs and provide valuable materials like clean soil through composting that supports the efforts of local gardeners and farmers.
4.1 CREATE AND EXPAND OPEN SPACE AMENITIES FOR RESIDENTS
Uptown is a location in great need of new and improved open spaces for residents. When asked to prioritize the ideas presented in just this chapter, the residents' top four choices all had to do with creating new parks that also manage stormwater. By investing in the parks and open spaces described below, Uptown would increase the amount of available open space by 300%.
CREATE A NEW CIVIC PLAZA AT FIFTH AND DINWIDDIE programmed to bring Uptown and the Hill District together
EXPAND THE TUSTIN STREET GARDENS / TOT LOT INTO A NEIGHBORHOOD PARK with a safer street and better stormwater management
TRANSFORM THE HILLSIDE INTO AN OPEN SPACE AMENITY AND STORMWATER PARK with trails connecting West Oakland, Uptown and the Hill District and River overlooks complete with air quality monitors
DEVELOP A NEW BLUE ALLEY ON WATSON STREET ON THE WESTERN END and provide space for parking as well as a small plaza for clients of the drop-in center
INTEGRATE NEW GREEN SPACE AT FORBES & STEVENSON TO CAPTURE STORMWATER AND SUPPORT NEW SOCIAL USES by helping to create an active green space where Mercy and the residential community intersect
4.2 CREATE NEW GREEN CONNECTIONS
Creating new parks and open spaces will not be enough. Despite Uptown's small footprint, it is disconnected both from nearby neighborhoods and amenities. Topography, steep slopes and unfinished or failing infrastructure only serve to further separate Uptown residents from what is nearby. Several key connections need to addressed.
CREATE CLEAR CONNECTIONS TO THE HERITAGE TRAIL by creating a stormwater park under the highway and extending a trail connection down Brady Street
IMPROVE COLWELL AS A GREEN CONNECTOR with a trail that connects the hillside trails to Graham Park in the Hill District
TRANSFORM BOULEVARD OF THE ALLIES INTO UPTOWN'S RIVERFRONT with a green, riverside trail created by potentially reducing the number of lanes on the Boulevard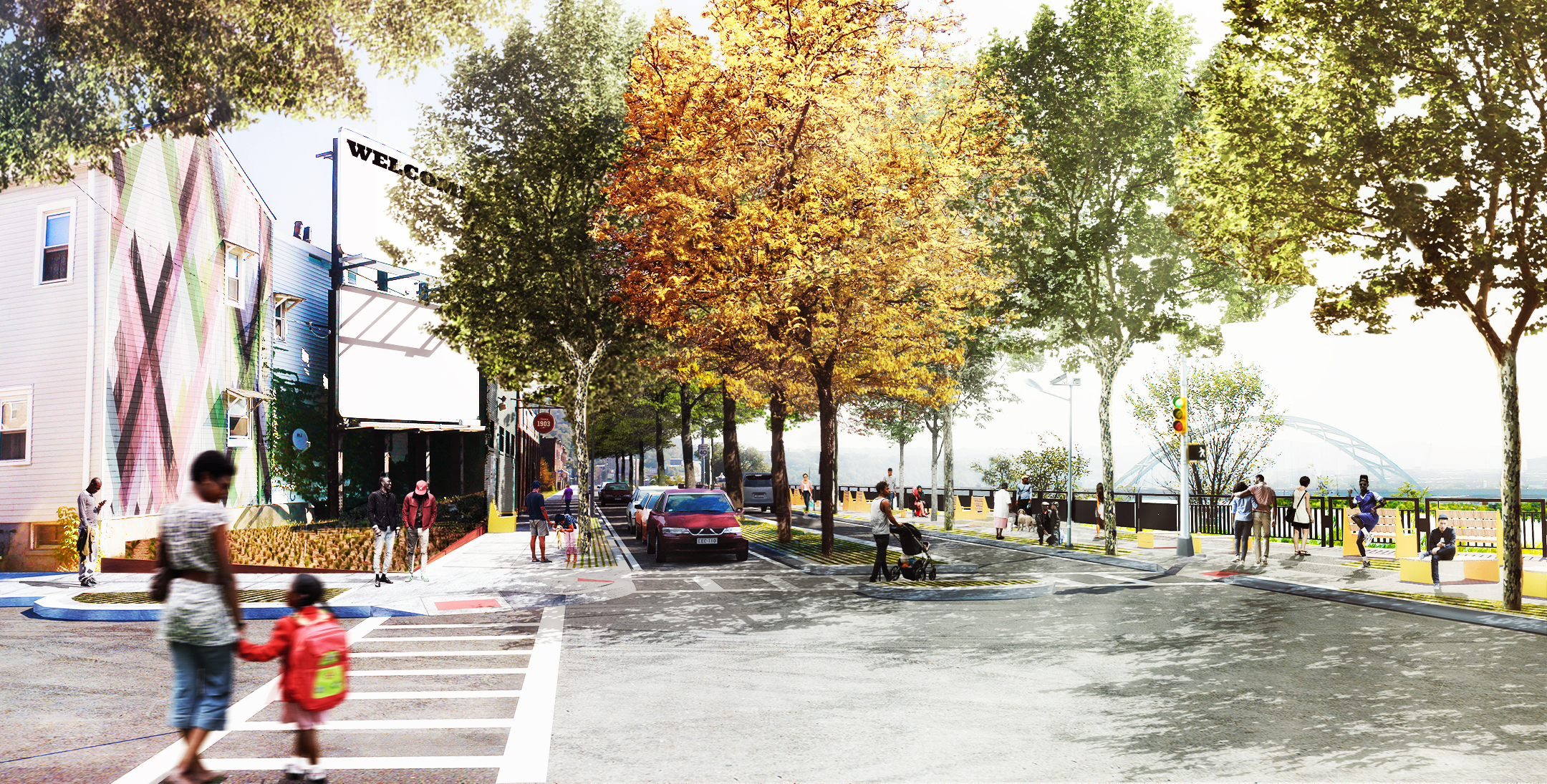 4.3 USE LANDSCAPE TO ENHANCE LOCAL QUALITY OF LIFE
Uptown suffers from challenges related not just to issues like stormwater runoff but also from illegal dumping and a character that all too often signals the community is unsafe. Strategically investing in landscape improvements, tree plantings and the ecology of the community can provide residents with: More access to quality open space; cleaner air and water; a more comfortable and attractive environment; and access to fresh food.
ENCOURAGE ALTERNATIVE APPROACHES TO MANAGING VACANT LAND by creating temporary landscape treatments on targeted vacant lots
MAXIMIZE AND CONNECT LOCAL FOOD PRODUCTION OPPORTUNITIES by working to expand community gardens
INTEGRATE STREET TREES focusing on north-south streets until Fifth and Forbes are complete
MANAGE DISTRICT VEGETATION by working with local ecologists to develop planting plans for key open spaces and vacant spaces that increase the diversity of the vegetation
MONITOR AND IMPROVE ENVIRONMENTAL HEALTH by working with researchers to monitor both water and air quality in the community
4.4 UPDATE UNDERGROUND INFRASTRUCTURE
It is no secret to residents that the infrastructure in the community is old and in need of major repairs and, in some cases, replacement. The age and condition of underground pipes only exacerbates the issues of flooding that impacts the community. Uptown needs replacement of underground infrastructure as well as investments that help to ease the burden on that infrastructure.
FOCUS ON STORMWATER RETENTION STRATEGIES AT THE SURFACE TO EASE THE BURDEN ON SEWER SYSTEMS by designing parks to slow water before reaching underground pipes
UPDATE SEWER / WATER LATERALS when investing in the community to improve streets or upgrade or create parks
4.5 PURSUE DISTRICT ENERGY
The Uptown EcoInnovation District Energy System concept uses a combination of combined heat and power (low-cost system designed to recover and reuse waste heat), a new micro grid and district heating /cooling to form an energy production and delivery system capable of: Reducing electricity costs; reducing CO2 emissions and; improving resilience where, in the event of a black out, power will be available to all. We recommend that the City establish policies to facilitate implementation of the Uptown District Energy Plan:
REDUCE ENERGY BURDEN by installing LED lighting, occupancy sensors, new building controls and white roofs to name a few and, integrating energy metrics into the new zoning for Uptown
COORDINATE INFRASTRUCTURE INSTALLATION WITH BRT
ESTABLISH MULTI-USER MICRO GRIDS by working to eliminate State barriers that prevent this opportunity
PROMOTE USE OF COMBINED HEAT & POWER by encouraging developers of multi-family buildings to integrate CHP units
ENCOURAGE INSTALLATION OF SOLAR PV IN UNDERUTILIZED AIR SPACE including the top of parking garages, on large rooftops and in select areas along the hillside
ENCOURAGE RECYCLING WASTE FOOD AS AN ALTERNATIVE ENERGY SOURCE by capitalizing on local institutions that already separate food waste which provide the "fuel" for a digester plant that creates energy
EXTEND THE 2030 DSTRICT INTO UPTOWN
4.6 BECOME A MODEL FOR INNOVATIVE WASTE MANAGEMENT
An EcoInnovation District addresses not only the form and performance of key systems like energy, but also in how we change our behavior to reduce waste. Waste carries a significant environmental cost from the ever-increasing landfills that collect what we do not reuse to the elevated carbon levels generated from the trucks required to haul waste from neighborhoods to these landfills. But reducing waste is also a quality of life issue in the community where all too often trash finds its way into streets and resident's stoops or yards. Alternative approaches to waste like recycling and composting create more jobs than just throwing it all in a landfill.
STRIVE TO BECOME A ZERO WASTE COMMUNITY by holding zero waste events, reducing construction waste and working to acquire better data on local recycling rates
ENFORCE RECYCLING MANDATE
PROVIDE PUBLIC TRASH AND RECYCLING RECEPTACLES WHERE NEEDED and work with institutions to fund installation and maintenance where possible
ESTABLISH A DISTRICT COMPOSTING PROGRAM and use the soil created by composting for the local community gardens and farms
IMPLEMENTATION
The EcoInnovation District represents an ambitious vision for the future of Uptown. To achieve the desired outcomes, a significant effort will be required including additional engineering and analysis, changes to City and some State policies, new community-driven initiatives and, financing and construction. Various entities will be required to continue the effort over the coming years. There is no one agency, project or funding source that can do it alone – coordination will be critical to achieve the long-term goals described in this plan.
To help make this plan a reality, we must recognize the constraints including limited resources – both in terms of money and time. While a large amount of investment will be necessary, anticipated social, economic and environmental benefits greatly outweigh the costs. But to truly guide investment, the work must be managed by a group of individuals that are committed to this vision.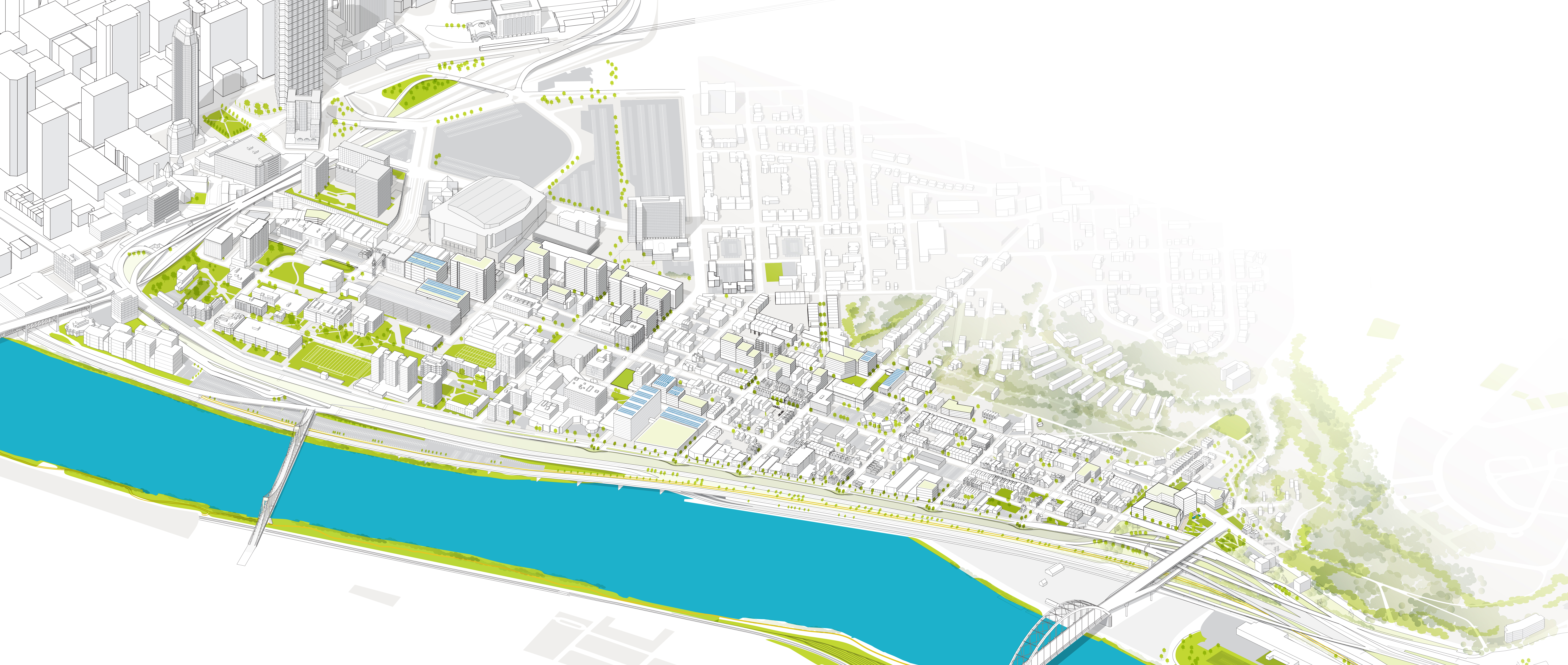 FROM STRATEGY TO ACTION

To help understand what is required to move this plan forward, all of the strategies fall into one of the following elements:

1. ORGANIZING: by community partners to tackle business retention, administering housing programs/activities, land acquisition, linking residents to training programs, planning community events, working to create transportation demand management programs, ensuring the community is clean & safe and, encouraging public art in the neighborhood.

Initial actions include the acquisition of vacant properties, monitoring illegal dumping and housing conditions, and ramping up community programming and building additional capacity on the ground to coordinate these activities.

2. ADVOCACY: to push for tax policy changes at State level, energy tariff for district energy at the state, PennDOT coordination and, local advocacy to steer local potentially available dollars (like the housing trust fund) to Uptown.
Initial actions include coordinating with PennDOT on the design of the BRT and evaluating ways in which the Long Time Owner Occupants (LOOP) program can be implemented in Pittsburgh to protect low-income homeowners.

3. ZONING: organized by the City but coordinated with local partners to re-write the local codes to support the vision and goals of this plan.
The City is currently working to develop an Uptown Public Realm District based upon the goals and strategies contained in this plan. Public participation is required to review and refine the zoning approach prior to its formal adoption.
4. MIXED INCOME / MIXED-USE DEVELOPMENT: primarily by private developers and investors to build affordable housing and new market-rate housing in the community.
Initial actions include working with developers and the City to provide incentives and subsidies to create lower-cost retail spaces and workforce and affordable housing.

5. INNOVATION VILLAGE / SMALL BUSINESS WORKSPACE: working closely with nonprofits, developers and the City to secure dollars to encourage ground floor retail uses and to rehabilitate existing buildings suitable for small businesses. Development of office and research space in connection with local academic programs and institutions.
Initial actions include partnering with local institutions to seek opportunities to develop lab and research space and secure alternative financing for the creation of small business space within existing buildings and on the grounds floors of new buildings along Fifth Avenue.

6. BUS RAPID TRANSIT: coordinated by the City, County, Port Authority and partners to raise funds and improve Fifth and Forbes in Uptown and beyond.
Initial actions include seeking financial assistance through the FTA Capital Investment Grant (CIG) Small Starts program and working with residents on the further design and engineering of Fifth and Forbes.

7. COMMUNITY INFRASTRUCTURE HUBs: URA and City initiative to develop these shared "hubs" complete with district energy, bike share, stormwater and parking either in the form of a garage or a lot.
Initial actions include working with the URA to raise capital and an operational model for a pilot infrastructure hub at Fifth and Dinwiddie to help support development at that location.

8. STORMWATER PARKS: by PWSA, the City and local partners to create new green space that manages stormwater at Fifth & Dinwiddie, Tustin Street, Watson Alley, and the Soho Valley which includes the hillside along Kirkpatrick, Warren K Branch Park, and the area under the Birmingham Bridge. Initial actions include working to establish an approach toward impact investing (Pay for Success) to help fund key stormwater initiatives in Uptown. Initial grants for engineering from ALCOSAN, GTRP and CITF should be pursued for a stormwater park on the hillside along Kirkpatrick and within Warren K Branch Park and to transform Tustin Street into an expanded neighborhood park that manages stormwater. Further study is also necessary to explore the possibility of extending a connection to the Heritage Trail along Brady Street and transforming the area under the Birmingham Bridge into a stormwater park.

9. DISTRICT ENERGY: installation of Solar PV, battery storage, CHP and digester gas power generation systems interconnected by a micro grid to ensure secure electricity supply to Uptown.

Initial actions include coordination with Duquesne Light on pursuing legislative changes to enable the creation of a micro grid and working with the Port Authority to ensure District Energy is included into the BRT design.

10. DISTRICT PERFORMANCE: in coordination with local research institutions, integrate monitoring and sensor technology across different initiatives including district energy, mobility, air quality and stormwater.
Initial actions include aligning local research at institutions with EcoInnovation District objectives. These include water quality monitoring and potential real-time traffic monitoring aligned with the SmartPGH initiative.

​